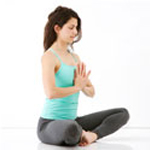 Description
After a long snowy winter in our crowded city we are heading upstate to unwind, relax and renew.Come spend a weekend full of yoga at Heathen Hill, a secluded and intimate retreat center surrounded by beautiful nature. Enjoy 4 extended yoga classes,locally grown fresh gourmet food, and plenty of free time for chilling in the hummock, lying on the grass with a good book, walking in the mediation labyrinth, or playing volleyball, badminton, or whatever other game suits your fancy on the beautiful lawns. At night sit around the bonfire, drink wine and enjoy the star filled sky.
Prices
(include all meals, yoga sessions and accommodations):
Yoga House
$450  per person in a double shared room
New Big House
$430 per person in a triple shared room
$485 per person in a double shared room
$585 per person in a single room
Fancy House with private bath:
$525 per person in a double room
$700 per person in a single room
Transportation:
Carpool is the best option and Merav will help you get organized if needed. Public Transportation via Adirondack Trail is also available
About Merav Ben-Horin
Merav Ben-Horin is a yoga instructor and psychotherapist based in NYC. She was a dancer for over 10 years and began practicing yoga in 2004 in tandem with her studies in psychology. She specializes in alignment-based vinyasa as well as therapeutic yoga for emotional well-being. Born out of her interest in human behavior and movement, Merav recognizes yoga as a tool for personal growth as well as a proven way to develop focus and mind/body awareness.
As a yoga instructor, Merav incorporates principles from her background in psychology. She strives to offer a safe, non-judgmental environment for students to explore their bodies, observe their minds and confront and overcome their fears, limitations, or obstacles both on and off the mat. Merav currently teaches groups and private classes all around NYC and leads yoga and meditation workshops and retreats worldwide.
As a psychotherapist, Merav also incorporates yoga into her work with patients by combining yogic principles in conjunction with talk therapy. She works with both groups and individuals who struggle with trauma, depression, anxiety, eating disorders and substance abuse. Merav has received extensive education and training in psychotherapy and contemporary psychoanalysis. She completed her B.A in psychology at Hunter College and recived her graduate degree from NYU. She is currently in postgraduate psychoanalytic training and sees patients at the National Institute for the Psychotherapies.
Merav's website: www.yogamerav.com
email: info@yogamerav.com
Cell :646-469 6865
Retreat Schedule
Friday:
Arrival at 4pm
5:30-7pm – Vinyasa Blend Restorative –unwind and restore
8pm-Dinner & Heathen Hill's special home sangria!
Saturday:
9-11am – Morning practice focusing on energizing back bends and inversions
12pm – Lunch time
4-6pm – Evening gentle asana, yin, restorative & Pranayama focusing on emotion and tension releasing, hip openers, twists and forward bends followed by meditation
7pm- Dinner followed by bonfire (bring your own wine or beer of choice as well as your instrument if you happen to play any for an after bonfire party jam!!)
Sunday:
9-11am – Morning practice focused on facing fears & future challenges with arm balances and inversions
12pm- lunch time
2pm- departure – Back to the city with a clear, fresh, and spirited mind and body!