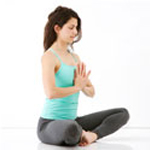 SOLD OUT!
Click here for another retreat with Merav in July!
Title: Getaway Yoga Retreat in the Catskills with Merav Ben-Horin
Location: Heathen Hill
Description
After a long and snowy winter in our crowded city we are heading upstate to unwind, relax and renew! Come spend a weekend full of yoga in a secluded and intimate retreat center surrounded by beautiful nature. Enjoy 4 extended yoga sessions combining vigorous Asana practice, pranayama and mediation, locally-grown fresh gourmet food, and plenty of free time for chilling in the hammock , lying on the grass with a good book, dipping in the hot tub and/or the swimming hole (don't forget your bathing suit!), walking in the meditation labyrinth or playing volleyball, badminton, or whatever other game suits your fancy on the beautiful lawns. At night, sit around the bonfire, drink wine and enjoy the star-filled sky.
About Merav
Merav received her yoga teaching certification from YogaWorks.
She was a dancer for over 10 years and began practicing yoga in 2004 alongside her studies in psychology. As part of her interest in human behavior and movement she sees yoga as a tool for personal growth and a great way to develop mind/body awareness. Merav teaches Vinyasa flow classes emphasizing movement to breath connection, muscle strengthening, and increased flexibility and balance.
She has also led individual and group yoga therapy for patients suffering from substance abuse, anxiety and depression. As a future therapist she intends to incorporate yoga into her work with her patients and combine yoga therapy with talk therapy.
Retreat Schedule
Friday:
Arrival at 4pm
5:30-7pm – Vinyasa Blend Restorative – unwind and restore
8pm-Dinner
Saturday:
9-11am – Morning Vinyasa Flow-Vigorous morning practice focusing on energizing back bends and inversions
12pm – Lunch time
4-6pm – Evening Flow: Well rounded practice focusing on emotion and tension releasing, hip openers, twists and forward bends followed by meditation
7pm- Dinner followed by bonfire (bring your own wine or beer of choice as well as your instrument if you happen to play any for an after bonfire party jam!!)
Sunday:
9-11am – Morning flow: Vigorous morning practice focused on facing future challenges with core work, arm balances, and inversions followed by pranayama and meditation session.
12pm- lunch time
2pm- departure – Back to the city with a clear, fresh, and spirited mind and body!
To register contact – info@yogamerav.com
Start Date: May 20, 2011
End Date: May 22, 2011