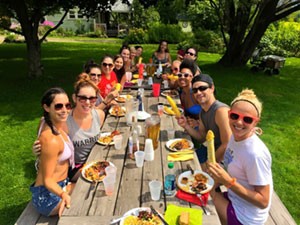 We had such a blast the past 2 summers, I'm so excited to do it again!  Escape the stress of the city for a fun weekend of serenity in nature.  Treat yourself to 3-days of energizing and restorative yoga sessions, locally-grown fresh food, and blissful surroundings.  Bring a good book, a bathing suit, a beach towel, and bask in the lush green fields, take a dip in the swimming pond, or gently sway into a soothing nap on the hammock.  In the evening, enjoy s'mores around the bonfire, unwind in the hot tub, or sip wine under the starry skies.   This retreat is friendly to all so don't be shy if you are new to yoga.  Everyone is welcome!
About Dina
It took Dina a little while to discover her inner 'yogi.'  "Yoga didn't come easily to me," Dina shares, "I was frustrated that I couldn't get into certain poses, and I always forgot to breathe.  With continued practice, I began to realize that it's not about how long you can hold crow pose, but about letting go of what you think you can and can't do, and taking the focus inward where your true power lies."  Inspired by how yoga changed her own mindset, in 2010 Dina completed the teacher training program at Sonic Yoga and left her corporate day job to focus exclusively on teaching.  She encourages students to explore on the mat, and keeps the mood lighthearted with great playlists and creative sequencing.  Her teaching philosophy is embodied in three simple words: "Breathe, Play, Grow."  www.yogawithdina.com
Retreat Schedule
Friday
4pm   Arrive & Unwind
6:30pm   Informal Meet & Greet
7:30pm   Dinner
Saturday
7:30am – 8:30am   Buffet Breakfast (Coffee, tea, juice, fruit, yogurt, breads, spreads, etc.)
9:00am – 10:15am   Energizing AM Vinyasa Flow
12pm -1pm    Lunch
1pm – 6pm   Free Time to frolic, take a dip, read a book, etc.
6pm – 7:15pm   PM Restorative Flow
7:30pm    Dinner followed by bonfire (Bring your own beverage of choice)
Sunday
7:30am – 8:30am    Buffet Breakfast
9:00am – 10:15am   Energizing AM Vinyasa Flow
12pm -1pm    Country Brunch
2pm   Depart feeling refreshed, renewed and revitalized!
Pricing
Double Occupancy:  $499 per person
Double Occupancy (private bathroom):  $550 per person
Single Occupancy also available (email dina@yogawithdina.com for pricing)
Payment Policy
$200 deposit is due upon registration
Balance is due 45-days before retreat
All payments are non-refundable
For more info or to reserve your spot, contact Dina at dina@yogawithdina.com