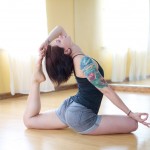 Title: Alyssa Rubin
Description
Get out of the city for the weekend to practice yoga, eat freshly prepared organic meals, spend time outside, and socialize with like-minded yogis. We will spend the weekend practicing vinyasa flow, starting with a one hour slow flow class on Friday evening, which will be nice after sitting in the car for a few hours. Try to arrive between 5:00 and 5:30 so we can practice at 6. Bring your bathing suit for the swimming hole and hot tub, and a musical instrument (optional) for the bonfire on Saturday evening.
About Alyssa
Alyssa's sister took her to her first yoga class when she was a teenager. Many years later, her yoga practice is a top priority! She completed her first teacher training in 2009 and is certified in hot yoga, prenatal yoga, and vinyasa flow.
She loves spending time outside and is super excited about returning to Heathen Hill.
Prices
Includes Food, Yoga, Accommodation and FUN!
Singles – $470.00
Doubles $405.00
Camping $385.00
For more info or to reserve your spot – AlyssaRubin@gmail.com
Start Date: July 13, 2012
End Date: July 15, 2012