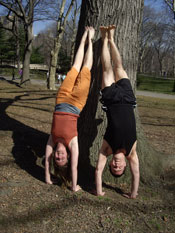 Title: Divine Play in the Great Outdoors with Brenna Padesky & Rikard Skogberg- June 25-27
Location: Heathen Hill
Description: Lila (or Leela) is a Sanskirt word which literally translates to mean "play". Discover how a sense of play (and a sense of humor) can put the joy back into your asana practice. Whether it's standing on your feet, standing on your hands, working by yourself, or working with a fellow yogi, lightness in your heart and smile on your face can take you miles in understanding how your practice on the mat ripples out to create fulfillment in your life.
Join us for a delicious weekend away from the city. We will meet up late Friday morning and road trip upstate to Heathen Hill in Franklin, NY. Once there, enjoy a weekend of sweaty morning vinyasa with Rikard, evening slow flow and meditation with Brenna, and a taste of Thai Yoga massage threaded throughout. In your free time you can jump in the swimming hole, chase the resident chickens, or catch up on your reading.
About Brenna and Rikard
Rikard Skogberg has a Masters Degree in Social Work and certification in various styles of yoga. He has been a yoga teacher for the past 8 years, currently with a full time practice in NYC. Rikard's practice, which offers both individual classes as well as group classes, incorporates alignment based asanas with breath as a healing tool.
Rikard is also a Certified Biodynamic Breathwork Practitioner. With a background in dance and theater, Rikard has studied healing drama therapy, dance therapy and creative arts therapy. An integral component of his practice is the union of body with mind and the effect this connection has on healing.
Brenna Padesky studied at Laughing Lotus under the guidance of Bryn Chrisman and Alison Cramer. She is currently managing and teaching at Reflections Yoga in midtown Manhattan.
For more info or to hold your spot, please contact:
Brenna Padesky
207.653.5526
brennapadesky@hotmail.com
Start Date: June 25, 2010
End Date: June 27, 2010