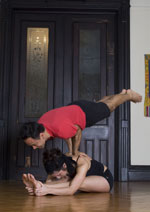 Title: Bodhisattva Yogic Bliss: Vinyasa, Meditation and More
Location: Heathen Hill
Description: 
In the Bodhisattva tradition, being of greater benefit to those around you, often begins with benefiting yourself. Vivekan & Jess invite you to enjoy a complete weekend of self-nurture. When not deepening your practice with revitalizing yoga flows attentive to form and breath, and restful meditation imbued with Buddhist thought, bask in blissfully delicious meals, the country summer setting and the opportunity to let go and lay back.
Vivekan and Jess' retreats are renowned for garnering great guests. Newcomers have always felt welcome. Bring a friend and/or make new ones, or do your own thing!
About Vivekan & Jess
Vivekan is the founder and director of Park Slope, Brooklyn's Bodhisattva Yoga (www.BodhisattvaYoga.com). He was originally certified under a direct disciple of Swami Satchidananda and has since studied with many teachers of varying traditions. He has especially been inspired by teachers from Tibet, China, India & the West. Synthesizing these influences, Vivekan has created his own unique brand of yoga instruction. Think well-sequenced, energetic Vinyasa flows imbued with an awareness to form, breath, Buddhist thought and acceptance. His meditation instruction, and broad yogic knowledge in general, enriches his students' experience with his ability to tie yogic philosophy with ordinary, everyday experiences.
Jess received her teacher certification under Vivekan and continues to apprentice under his guidance. She draws inspiration from her practice, her teachers and the Dharma. Among students and private clients she is known for her warmth, encouragement and her ability to share her personal tips, tricks and hacks to make life off and on the mat a little more laid back and rock star.
Vivekan and Jess infuse their Bodhisattva Yoga blend with their studies of Buddhist thought, and expertise in yoga, ecology and green living. Vivekan has been featured on such popular media outlets as MTV Brazil and Channel 9 News, and inside the pages of Time Out NY. He has also taught meditation in such notable settings as The New York Times. Jess has been featured in publications like Budget Travel, E, the Environmental Magazine, and MSN, and has spoken at The Tibet Center and the Rubin Museum of Art.
Retreat Schedule
Friday, August 12
4:30 – 6pm – Unwind in an Arrival Flow
Enjoy a welcome glass of sangria!
7pm – Delicious dinner in the Plum House
Saturday, August 13
Breakfast, self-serve to your pleasure
9:30am – 11am Morning Flow & Meditation
Sumptuous Lunch served outdoors
3pm – 4:30pm Afternoon Flow
Sunset dinner in the Plum House
Evening bonfire, s'mores and star-gazing 🙂
Sunday, August 14
Breakfast, self-serve to your liking
9:30am – 11am Morning Flow & Meditation
Hearty Country Brunch in the Plum House
To register, call 718.499.YOGA (9642) or e-mail Jessica@BodhisattvaYoga.com.
Start Date: August 12, 2011
End Date: August 14, 2011