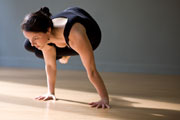 Title: Paula Lynch
Location: Heathen Hill
Description:
Join Paula Lynch for a fun weekend of yoga, meditation and fresh garden delights this July! We will practice intensely in the morning and afternoon and eat some incredible, home cooked meals in the evening. Our morning practices will include asana, pranayama and meditation, our afternoon practices will ask you to push your limits a bit, to explore and play!
We will begin Friday evening with a Restorative practice, followed by Dinner.
Practicing in the beauty and peace of the mountains, especially at Heathen Hill, helps us access the playful and curious side of the body-mind complex, eventually leading us to that quieter and more peaceful inner space that can be difficult to abide in without this type of exploration. You are invited to come explore and play in your practice and nourish yourself with good food, rest and relaxation on this weekend retreat!
About Paula
Paula Lynch is a Yoga Works Certified Instructor affiliated with the Yogaworks Teacher Training programs. Her teaching style is influenced largely by the meditative flow and heat of Astanga yoga and the precision and playfulness of Iyengar yoga.
She studies with Genny Kapuler and Alison West, and has been able to shape her experience of the world through her asana practice. She studies anatomy and kinesiology and applies this knowledge to her understanding and teaching of yogasana in her classes through breath and alignment.
Paula's teaching style expresses that yoga is an incredible technique that can give us access to the layers of our physical and energetic bodies that can only be experienced through patient and intentional practice. She practices yoga as a form of devotion, prayer and self-study and understands yoga as so much more than physical – it is cellular, mental, intellectual and spiritual involving our entire being.
Start Date: July 16, 2010
End Date: July 18, 2010
Contact Paula to register: paula@yogapaula.com