Ease Into Autumn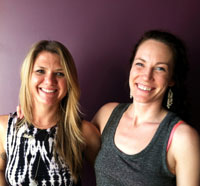 Join Jess and Holly for a nourishing and invigorating weekend at Heathen Hill, where the fresh air and spaciousness of the natural world will allow you to synchronize with the changing season. Enjoy homegrown meals, relax in the hammock, take a dip in the swimming hole or hot tub, and practice yoga in the stunning landscape of the Catskill Mountains. At night, sit around the bonfire; drink wine, and star gaze. Connect to nature and begin your journey inward as we ease into autumn!
About Jess and Holly
Jess Blake is a YogaWorks certified instructor teaching in NYC. She infuses mindfulness techniques, meditation, and breath-work into her classes, offering students the opportunity to develop a deeper connection to themselves throughout the practice. She brings a sense of presence and compassion into her teaching and aims to create a nourishing and empowering experience for her students. See her schedule at www.jessblakeyoga.com.
Holly Ramey teaches yoga throughout NYC and Brooklyn. She is a mover, a lover and a seeker. She has studied yoga at Laughing Lotus and YogaWorks in NYC. Her main teachers are her brother, Matthew Brokenshire, Mona Anand, Jillian Pransky, Jodie Rufty, her friends, family, and students. She is passionate about yoga as an exploration of the self and hopes to leave her students feeling open and grounded. See her schedule at www.hollydramey.com.
Tentative Schedule
Friday:
4:00 Arrive at HH
4:30-6:30- Opening Yoga Practice: Unwind and Relax
7:00 – Dinner
Saturday:
9:00-11:00 – Morning Yoga Practice: Energize and Refresh
11:00 – Brunch
Noon-5:00- Free Time
So many things to do (or NOT do!): read in hammock, swim, wander through Meditation Labyrinth, play volleyball, hula hoop, write, hike
5:00-7:00- Evening Yoga Practice: Restorative and Yoga Nidra
7:00 – Dinner
9:00- Bonfire, marshmallow roast, and stargazing
Sunday:
9:00-11:00- Closing Yoga Practice: Release and Renew
11:00 – Brunch
1:00 – Departure
Prices
Double: $470
Single: $545
Camping Luxe: $415
Prices are all inclusive of yoga, lodging, and food. Please BYO beer and wine.
To register, please call Jess at 218-280-7310 or email Holly at holly@hollydramey.com
Accommodations
All rooms are clean and charming. There are several Double Occupancy Rooms, limited Single Rooms and a one Honeymoon Suite.
Camping is available for the budget minded: large deLUXE tents built for 2 with outhouse, sink, and outdoor shower. BYO sleeping bag, pillow, additional blanket, towels, and flashlight.
Transportation
Carpooling is the best option and Jess and Holly will help you get organized, if needed. Public transportation via Adirondack Trail ways is also available.