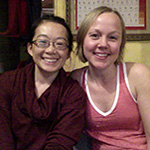 Description
Recharge and renew during a Spring weekend in the Catskills with yoga, good (vegetarian) food, fresh air, friends, and cookies! This is a great retreat for yogis who would like to learn more about specific pose or group-class instruction and haven't had the time/opportunity to ask questions. In addition to (all-level) yoga classes throughout the weekend, we will offer a workshop detailing (alignment, modifications, etc.) a few poses as requested by the students in advance. We will also be offering a special retreat price of $75* for a private session for even more yoga fun! Free time can be spent boating, soaking in an outdoor hot tub, relaxing inside, and enjoying the beautiful outdoors.
*price only available during this weekend and the number of private sessions are limited. First come, first served. Please e-mail us about availability. Normal private-session rates are $95 or $125 per hour.
Price
Price includes lodging, meals, and yoga classes (does not include optional private sessions or purchase of any products). Prices vary based on accommodation type selected. All rooms share bathrooms, except as noted below.
Optional Mini (2 hour) Botanicals Workshop with resident herbalist: additional $30.
Description of Botanicals Workshop: We will focus on select plants while they are in their prime and most beneficial. Each workshop will begin with an explanation of the product we will be making followed by a stroll around the property. After we locate, observe and learn about the various botanicals we will be using, we will harvest the parts of the plant needed and head back to the Big Heathen kitchen. You will make the product and take it home.
Yoga House
$399 per person in a shared two-person room
New Big House
$450 per person in a shared two-person room (buy out a whole room for $525)
$400 per person in a shared three-person room or $450 per person if two people share this room
Private bath options:
$500 or $525 per person in a shared two-person room (buy out a whole room for $675)
Transportation
Please visit the Heathen Hill website for directions: https://heathenhillyoga.net/directions/. If you would like to arrange a carpool, feel free to contact Kim.
About Kimberly Wong
Kim (500-RYT) is a native New Yorker, Harrisite, Cal grad, attorney, and former long-distance runner who started seriously practicing yoga in 2011 to recover from illness and offset malaise and fatigue. She loves to teach and currently teaches every Saturday at Atmananda Yoga Sequence. She especially enjoys teaching alignment and modifications. She hopes to assist her students practice safely and achieve a few moments of calm, reflection, and vacation while remaining right here in the city.
Kim can be reached at kimwongyoga@gmail.com.
Follow Kim on Instagram: theGoobsterNY.
About Alison Whitehead
Alison (RYT-200 – currently completing RYT-500) grew up playing competitive team sports, running and biking. She has always enjoyed helping others to feel their best and enjoy life. Alison began incorporating yoga into her routine to help with her own training and stress reduction as well as for her bigger goal of teaching others the amazing benefits of a regular practice. Alison currently teaches Yoga for Athletes every Sunday afternoon at Studio in the Heights (in addition to weekly High Intensity Interval Training classes), and a Yoga for PTSD class at a local VA Medical Center. She focuses her classes on proper form and alignment while trying to also incorporate a bit of humor and mindfulness into each class. Follow Alison on Instagram: alison_fityogi and blog: http://www.ali-zen.com/
Schedule
Friday
Arrive after 3pm
6-8pm – Welcome and Vinyasa Flow
8pm – Dinner
9-10pm – Social Hour at the Big House – tea and cookies supplied (welcome to bring other snacks/beverages)
Saturday
Breakfast – Self-serve
9-11am – Morning practice & Workshop
12:15pm – Lunch
1-3pm – Optional Mini-Workshop with herbalist
5-7pm – Evening Vinyasa Flow
7:00pm – Dinner followed by bonfire
Sunday
Breakfast – self-serve
9-11am – Morning practice – tying it all together
12pm – Brunch
2pm – departure