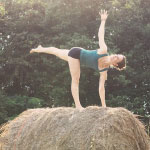 Description
Take a break this summer, June 19-21st, with Heather Seagraves at Heathen Hill. Come relax, rejuvenate, and play through asana, pranayama, and meditation. Invigorate your soul, enliven your being, and turn down the volume in the gorgeous mountains of NY. We will brighten the heart, body, and mind with yoga, laughter, and good company. Each day's yoga practice will be carefully crafted with playfulness and discovery. Enjoy home cooked meals by Lip from the garden's bounty, take awe in the summer sunsets, and sip wine by the fire. Rest, sit or meander in the meditation garden, take a swim or unwind in the hot tub. There are also games galore… badminton, hula-hoops, and horseshoes. Fancy a dance in the grass, hiking, or fishing? Whatever your pleasure, find it here!
Take a breath of fresh air this summer. Please join us for a weekend of adventure and inquiry!
Prices & Accommodations
Rates include all meals, yoga sessions, and accommodations.
$475 – $725 per person
Triple, double, and single rooms available.
All bed linens and bath towels are provided.
DO bring your own beach towels for swimming and hot-tubbing.
Please contact Heather to register: heatherseagraves@gmail.com
Transportation
Carpool is the best option and Heather will help you get organized if needed.
Public Transportation via Adirondack Trail is also available.
About Heather
Heather is a N​ew York City​ based independent dance artist, massage therapist, and 500hr certified yoga teacher.​ She is a teacher with Yogaworks and Yoga Shanti in NYC. In addition to teaching weekly yoga classes, Heather is also an anatomy teacher and Teacher Trainer with YogaWorks. She leads both 200hr and 500hr professional programs in New York and all over the US.
As a mover, shaker, and lover of the arts, Heather seeks to find the authentic artistic vision that lies within each of us. She began practicing yoga in 1996 and has been studying kinesiology as well as teaching movement and dance for over 18 years. Heather has a specialty of working with injuries and using biomechanics to inform her teaching. She has a passion for inspiring dancers, aspiring yoga teachers, and students who yearn for creativity, growth, and knowledge. Heather has taught as an adjunct dance professor at Georgia College & State University, and Central Connecticut State University.
In Heather's yoga classes, she combines her love of movement, creativity, kinesiology, and anatomy to bring clear and concise awareness to the body. Focus on alignment and the breath is paired with a challenging yet well-paced vinyasa. Her playful and compassionate approach to yoga blends rigor of asana, self-reflection, and exploration of philosophy while encouraging her students to find their own unique path to a continually evolving practice.
Along with yoga and dance, Heather lives and loves bikes, art, music, food, and hammocks. She loves the outdoors and is thrilled to be leading her first Heathen Hill Yoga retreat this year! Please come out and play!
Retreat Schedule
Friday, June 19th:
3pm onward – Arrival
4:30-6pm – Afternoon Asana
7:30pm – Dinner
Saturday, June 20th:
9-11am – Morning Asana
12pm – Lunch
4-6pm – Evening Asana
7pm – Dinner followed by a bonfire (bring your own wine or beer of choice if you wish!)
Sunday, July 21st:
9-11am – Morning Asana
12pm – Brunch
2pm – Departure