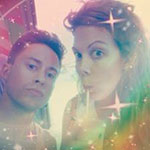 Description
Join Lacey and Michael for a gorgeous weekend of Ashtanga Yoga in the country.  Beginning and experienced practitioners alike are welcome to enjoy a getaway to deepen their understanding of the Ashtanga Yoga Method with lots of free time included to take in the sun, dip in the swimming hole, eat fresh food, and chill out in a hammock or on the meditation deck.
About Us
Michael Guiou and Lacey Korb have both studied extensively with and assisted some of the most respected Ashtanga teachers in the world, including Kimberly Flynn and Dr. John Campbell, both long time students of Guruji.  Years back they made their first pilgrimage to India to study with Louise Ellis, an incredibly influential ashtangi with over 40 years of yoga practice.  Michael continues to travel to India each year to study with Sharath at KPJAYI.
Lacey and Michael take a non dogmatic approach, always adapting practice to the individual while holding true to the Ashtanga Method as it has been taught to them.  They are looking forward to working with a group of people with diverse needs and concerns in an intimate and relaxed atmosphere.
Schedule
Friday, July 24
4pm – Arrive, watch the grass grow
6pm – Ashtanga Fundamentals, Tristhanam (The Three Pillars), and Light Pranayama
8pm – Dinner
Saturday, July 25
8:30 – 11am – Mysore Style, staggered start times will be given
Noon – Lunch under the sun with Masala Chai
5:30 – Yin Yoga for Ashtangis; Yoga Nidra
8pm – Dinner, bonfire (BYOB and snacks!), Q&A and Tales from India
Sunday, July 26
8:30 – 11am – Mysore Style with Q&A at the end
Noon – Brunch with more Chai!
2pm – depart Healthy, Happy, and Inspired
Pricing
Yoga House, double occupancy, twin beds, shared bath – $450pp
Big Heathen House, double occupancy, shared bath – $475pp
double occupancy, private bath – $500pp
Please contact us for Single Occupancy Rates
michael@sadhanainthecity.com
www.sadhanainthecity.com