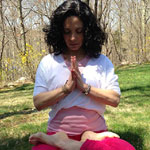 Spend a weekend with Judi and immerse yourself in yoga, nature, play, and rest, and enjoy nurturing and delicious garden-grown and made-with-love food. Four well-rounded classes will explore and unpack the themes embodied in Patanjali's Yoga Sutra 11.16 "The pains which are yet to come can be and are to be avoided." (trans. B.K.S. Iyengar).
This workshop is for seasoned yoga practitioners who are dedicated to penetrating the surface of the rich practice of asana and pranayama. Please bring an open mind, a full heart and a learner's inquisitiveness.
Highlights this year
Accommodations –The Big Heathen House is brand new as of 2015 and has 6 bedrooms and 4 ½ baths (limited private rooms and baths are available), and beautiful common area space. The wrap-around deck offers spectacular views of the gardens and the valley.
Mini botanical workshop with Lisa King "Flower Essences" – an optional add-on to your retreat with Heathen Hill's herbalist, Lisa King. Lisa says that "flower essences are subtle liquid extracts, taken in oral form, which are used to address issues of emotional well-being, soul development, and mind-body health." After strolling the property with Lisa to identify personal attractions to flower blooms, the workshop will culminate with each participant making a bottle of personal flower essence(s) to take home. $30.
About Judi
Judi Friedman is a certified Iyengar Yoga teacher who has been teaching for 15 years. Prior to teaching yoga, Judi was a corporate attorney; she discovered yoga while seeking a tool to reduce stress and to find a balance between the demands of raising her children and her career. Her personal yoga practice quickly led to a passion for sharing with others the transformational possibilities that yoga offers. She continues her studies of the vast subject of yoga with renowned Iyengar Yoga teacher Patricia Walden, as well as other inspiring teachers and is profoundly grateful to all of them. She teaches workshops, group classes and maintains a private clientele throughout northern Westchester, and teaches workshops at the Iyengar Yoga Institute of New York. In addition, she serves as Vice President of the Board of Directors of the Iyengar Yoga Association of Greater New York. Judi is dedicated to the principle that yoga should be accessible and safe for all; her teaching style is clear, dynamic, challenging and joyful.
Retreat Schedule
Friday
Arrive any time after 2 p.m. on Friday
Yoga Class: 4:30-6:30 p.m.
Cocktails: Bring your own beverage
Dinner: 7:30 p.m.
Saturday
Breakfast: self-serve, any time
Yoga Class: 9-12:00 p.m.
Lunch: 12:15 p.m.
Mini-Workshop with herbalist, Lisa King (optional): 1:00 – 2:30 p.m.
​
"Flower Essences"​
Rest and Play time: relax, swim, hike the labyrinth and/or trails, hot tub, read or nap in a hammock, play games, meditate
Yoga Class: 4–6:00 p.m.
Cocktails: Bring your own beverage
Dinner: 7:30 p.m. followed by evening gathering around the bonfire
Sunday
Breakfast: self-serve, any time
Yoga Class: 9–12:00 p.m.
Brunch: 12:15p.m.
Departure: 2:30 p.m.
Prices (all inclusive)
Yoga House:
Double: $600
Single: $700 (only available if all 4 double rooms in the Yoga House don't get filled)
Big Heathen House:
Doubles (depending on shared or private bath) range from: $650-$725
Singles (depending on shared or private bath) range from: $725-$875 (only 2 available)
​**​
**private rooms are very limited and are offered on a first come, first served basis (payment in full required)
To Register: Contact Judi Friedman at yogijudi@gmail.com or call  914.261.2970