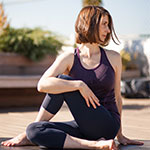 June 7-9
Summer Catskills Yoga Retreat with Jenny Schuck
Jenny strives to create smart sequencing within the aligned vinyasa style. She is a student of Rodney Yee and completed her 500-hour training with Natasha Rizopoulis. The weekend will be mostly asana practice with a taste of her work 'Stability for the Yoga Body' – a series of exercises to create stability in the body made mobile by yoga practice – developed to prevent everyday injuries.
My favorite things to do at Heathen Hill: yoga, read in an Adirondack chair, hike, walk the labyrinth, play volleyball and badminton with friends and use the hot tub. And sometimes do nothing. There are breakfast items available in your house. We gather for lunch and dinner – the food is amazing – most of it grown on site. It's a wonderful treat to sit with each other at eating times and chat about those things we never get to chat about as we run into and out of yoga class. At night, there are so many stars. I saw the milky way for the first time here. We'll have either a bonfire or a movie night. Everything is optional – you can always sleep or sneak off to chat with a buddy or go antiquing.
Heathen Hill is about 2.5 hours from Danbury. Arrive Friday afternoon – an optional practice around 5pm – then dinner with the gang around 7pm. We'll have two 90-minute sessions on Saturday, with time between for lounging or exploring. Then my friend Tobie Schuerfeld and I will co-teach a 2-hour session on Sunday morning, followed by a country brunch before we head home.
To register contact Jenny jenny@weareyogaculture.com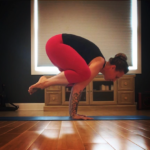 A Spring Retreat
Tobie believes that making space in the body to breathe is the most important part of the yoga practice. Her classes always tell a story whether they are moving towards a peak pose or have a specific theme. Tobie likes to warm up the body slowly and deliberately to allow students to deepen their awareness of movement and breath. She has been a student of Rodney Yee's for the last 13 years . This weekend will include asana, breath awareness and meditation. The last class of the weekend will be co taught with the fabulous Jenny Shuck! Contact tschuerfeld45@comcast.net for information.