Yoga + Movement Retreat with Heather Seagraves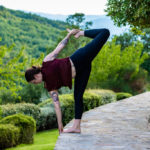 Take a breath of fresh air this summer, August 23rd-25th, with Heather Seagraves at Heathen Hill. Come relax, rejuvenate, and play through asana, movement, and mindful meditation. Invigorate your spirit, enliven your being, and turn down the volume in the gorgeous mountains of NY. We will brighten the heart, body, and mind with yoga, laughter, and good company. Each day's practice will be carefully crafted with playfulness and discovery. Enjoy home cooked meals by Lip and Lisa from the garden's bounty, take awe in the summer sunsets, and sip wine by the fire. Rest, sit or meander in the meditation garden, take a swim or unwind in the hot tub. There are also games galore… badminton, hula-hoops, and horseshoes. Fancy a dance in the grass, a walk in the meditation labyrinth, or nap in a hammock? Whatever your pleasure, find it here!
Heathen Hill is an intimate retreat center well off the beaten track. Between the towns of Franklin and Walton, NY in Delaware County, a mile up a dirt road, it sits on 10 secluded acres of gorgeous countryside.
Nestled in the Western Catskill Mountains atop a beautiful hill, Heathen Hill Guest House and Retreat Center is a place to rest and recharge. It is private and peaceful. Many have said Heathen Hill is a magical place. Take a break and breathe deeply.
Join us for a weekend of adventure and inquiry!
Rates are per person and include all meals, yoga sessions, and accommodations
Contact Heather directly to register and for additional details.
PRICES: $550-940
CONTACT INFO: HeatherSeagraves@gmail.com
BIO:
I am a mother, partner, student, and movement educator. I have been working in New York City as an independent dance artist, massage therapist, and 500hr certified yoga and anatomy teacher for over a decade. I am also a Functional Range Conditioning Mobility Specialist. I hold a BFA in Dance from FSU with a concentration on Performance, Movement Conditioning, and Kinesiology. I am also a Doula with Carriage House Birth and a Senior Teacher and Trainer with YogaWorks. I lead both 200hr and 300hr professional yoga programs in New York City and all over the US.
As a mover, shaker, and lover of the arts, I seek to find the authentic artistic vision that lives within each of us. I began practicing yoga in 1996 and have been studying kinesiology and teaching multiple movement disciplines for over 20 years. I have also taught as an adjunct dance professor at Georgia College & State University and Central Connecticut State University. With a background in structural bodywork and massage therapy, working with injuries and using biomechanics to inform my teaching are areas of keen concentration. Passion, playfulness, and curiosity are major components of my offerings and practice which help to ignite growth and self-study in this lifelong yogic quest for balance.
In my classes, I combine my love of movement, creativity, kinesiology, and anatomy to bring strength, clarity, and awareness to the body. Focus on the individual and the breath are paired with dynamic intelligent sequencing. With an educational and compassionate approach to yoga I strive to blend the balance of strength and mobility in asana, self-reflection, and exploration of philosophy while encouraging students to find their own unique path to a continually evolving practice.
Heather Seagraves SOMATICS
Yoga Movement Bodywork Birth
heatherseagraves.com
IG | FB | Newsletter
"Courage is the quality most essential in understanding the Language of the World." -Coelho