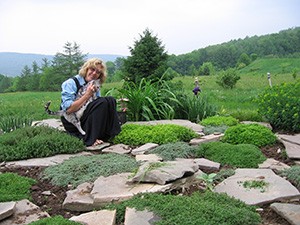 Arrive anytime after 2pm on Friday afternoon. Relax, take a swim in the pond and a dip in the hot tub.
We will start with a tasting on Friday evening at 7pm.
Practice on Saturday morning at 8:30.
Lunch and a tasting on the lawn, weather permitting.
Practice in the afternoon.
At dinner on Saturday we will taste–and POUR!
No balance poses during Sunday morning's practice.
Country brunch–no tasting before you drive!
Price: includes room and board, wine and yoga
Yoga House: $500 per person twin beds
Big Heathen $550 pp (twin beds) i
$600 single (queen bed) or $550 pp
$650 pp twin beds with private bath
$675 single (queen) or $625 pp with private bath
Click here for the printable registration form.