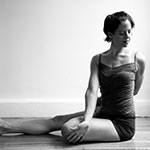 Enjoy homegrown meals, relax in the hammock, take a dip in the swimming hole or hot tub. At night, sit around the bonfire and star gaze. Connect with nature and begin your journey inward as we ease into autumn! Ahhh Heathen Hill…
About Neta
Neta Katz found Iyengar Yoga at 18. During her first class she realized that Yoga would be a life-long path. In 1992, she moved to NYC, earning her bachelor's degree in architecture from Pratt Institute. Throughout her studies, Neta rigorously pursued her Yoga practice at the Iyengar Institute with Kevin Gardiner. Her main teacher is Manouso Manos.
Neta has been teaching Iyengar Yoga since 1998. Her style of teaching is deeply rooted in her architecture background. She approaches the study of asana with thoughtful understanding of structure and space. Sharing her love and knowledge of anatomy, she guides students towards a profound understanding of the body, and its potential.
In addition to teaching asana, Neta is an adjunct professor at the School of Visual Arts, where she teaches Yoga philosophy.
Prices
Prices start at $500&and go up from there, depending on room choice. This includes all Yoga classes, meals, and accommodations. For more information or to register, please contact me at neta@yogawithneta.com