Description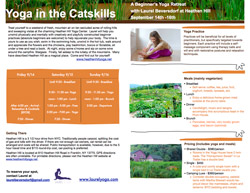 Join Laurel at Heathen Hill to unwind physically and mentally. Enjoy creatively and playfully constructed yoga practices that will help rejuvenate your body. Each practice will include a self-massage component using therapy balls and a fun yoga sequence ending with restorative postures and relaxation techniques. Practices will be beneficial for all levels of practitioners, but specifically targeted towards beginners. Absolute beginners are welcome!
Click the flyer for more info
E-mail or call Laurel to reserve your spot! laurelbeversdorf@gmail.com or 608-630-4454
Visit Laurel's website to learn more!
About Laurel
A yoga teacher, teacher trainer and anatomy instructor at YogaWorks in New York City, Laurel approaches yoga as a practical tool. That ideal is reflected through vivid and direct instruction of the asanas (postures). Laurel's enthusiasm for anatomy raises her students' awareness of what goes on behind the curtain of the skin allowing for a deeper appreciation of the unique and miraculous body we've each been given to inhabit, take care of and enjoy. Through her thoughtful sequencing of asanas, Laurel fosters her students' awareness of how observable patterns of the body provide insight into the ephemeral patterns of the mind. Her class atmosphere is one of playful discipline, encouraging students to embrace who they are, smile at intensity and soften to the unknown.
Pricing
(includes yoga and meals)
Shared Double – $380/person
Rooms in the Yoga House have 2 twin beds. The "Honeymoon Sweet" in Le Trailer has a double bed.
Single – $455
There is a single room in Le Trailer with a single bed. It's cute and comfy.
Camping Luxe – $360/person
These tents are enormous, double-occupancy, nylon palaces with mattresses, chairs, lanterns, and a roof overhead just in case in rains. Hot and cold water is available in open air sinks and showers. Long story short, Martha Stewart would be proud. BYO bedding, towel, pillow.
Start Date: September 14, 2012
End Date: September 16, 2012