Course Description
Join Kay Ottinger, Pilates Instructor, and Christina Vega, wine consultant, for a weekend getaway in the Catskills. Kay will lead us through a diverse range of classes, beginning with a class on muscle release techniques as a way to unwind after our travels from the city. Over the course of the weekend we will dig deeper into Pilates movements and use this wonderful strengthening modality to integrate our core into our physical practice. On Friday evening, Christina will host a sparkling wine reception on the patio, to kick off our first meal together.A sit-down, exploration of Pinot Noir on Saturday will take us from Burgundy to Willamette, New Zealand and Alsace, until we land back in New York State for another thoughtful, home cooked supper. Bring your friend, bring your partner, bring your mother or your father, son or daughter. Or, just come alone and meet new people.
About Kay Ottinger and Christina Vega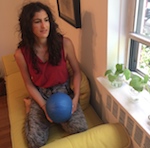 Kay has been dancing professionally in New York since 2010. As a dancer, she has been exposed to diverse movement practices that live and breathe through her investigations as a mover and a teacher. Her desire for a deeper understanding of our structures' mechanics led her to Pilates. She received her Pilates certification through the Kane School, and continues to study under Eleanor Hullihan at The Swan. She has taught at Finetune, Julliard, New York Pilates, Dynamic Bodies Pilates, and for the ABT summer intensive. Kay looks to explore with students, shaping each session to support the ranges of needs, desires, and interests of the individual. She is now owner of 2nd Story Pilates + Yoga in Jackson Heights, Queens.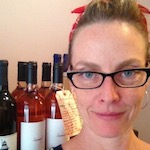 From the barely-legal age of thirteen, when she lied her way into a job as popover girl, Christina has been earning her daily bread in the hospitality industry. Stints as a server at notable New York City fine dining establishments; Alison-on-Dominick, Eight Mile Creek and Peasant, provided her with a hands-on, immersive education in both the Old and New Worlds of wine. Finally having grown weary of the late-night lifestyle, and wishing to further tap in to the dynamic wine business in New York, Christina transitioned to Frederick Wildman and Sons to work as a sales representative. Largely self educated, she was eager to deepen her knowledge and was awarded the Wine and Spirits Education Trust Level 3 Advanced Certificate with Merit. These days, she consults as a wine buyer for retail boutique Table Wine in Jackson Heights, which allows plenty of time to be home at night in order to bug her thirteen year old to do his homework.
Prices
Yoga House:
Double Occupancy/shared bath: $500 per person
Single Occupancy/Shared Bath: $605
Big Heathen House:
Double Occupancy/Shared Bath: $555/Per Person
Single Occupancy/Shared Bath: $655
Double Occupancy/Private Bath: $655/Per Person
Single Occupancy/Private Bath: $880
Price includes two nights accommodations, four Pilates classes, two wine tastings, two evening meals, one lunch and one brunch, plus two self-served breakfast; all offered on a sprawling, vintage homestead.
Please direct further questions or inquiries to:
kaymottinger@gmail.com OR mckayvega@gmail.com