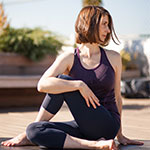 Jenny strives to create smart sequencing within the aligned vinyasa style – in each class preparing the body for what's to come as the practice progresses. She is a student of Rodney Yee and completed her 500-hour training with Natasha Rizopoulis. She owns Yoga Culture in Danbury, Connecticut, the most welcoming studio on earth. The weekend will be a mix of asana practice and her work that she calls 'Stability for the Yoga Body' (S4YB) – a series of exercises to create stability in the body made more flexible by yoga practice. See her Instagram account @gimmeprops for a sampling. Arrive Friday night for dinner, two practices on Saturday and then we join with my good friend Tobie Schuerfeld for the Sunday morning practice. This is gonna be fun! Contact jenny@weareyogaculture.com for info or to register.
Nourish, a yoga retreat by Tobie Schuerfeld
Tobie believes that making space in the body to breathe is the most important part of the yoga practice. Her classes always tell a story whether they are moving towards a peak pose or have a specific theme. Tobie likes to warm up the body slowly and deliberately to allow students to deepen their awareness of movement and breath. She has been a student of Rodney Yee's for the last 10 years and received her 200hr training at Karuna Yoga with Eileen Muir. She is also a massage therapist and has a level two certification in positional therapy. This weekend will include asana, breath awareness and meditation. The last class of the weekend with be co taught with the fabulous Jenny Shuck! Contact tschuerfeld45@comcast.net for information.