Description
Come be apart of the first ever Fall Yoga & Pilates Retreat led by the dynamic duo Diarra Cummings and Kristina Pugh. Autumn is our favorite time of year, and what better way to enjoy the best change of the seasons than in the Catskill Mountains! This retreat gives a whole new meaning to a weekend getaway. Enjoy delicious clean, homegrown and cooked vegetarian food; morning and evening yoga classes combined with Pilates, deep stretching and meditation; mountain-view relaxation and lots of fresh mountain air. Connect into your center on a deeper and more meaningful level as you learn to integrate the strength and power of your core into your practice and daily life. This retreat is the perfect way to wind-down after the whirlwind that is September and prep for the winter months ahead.
Here's the Deal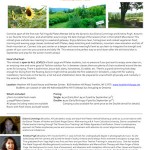 This retreat is open to ALL LEVELS of both yoga and Pilates students, but no pressure if you just want to enjoy some clean air, an amazing view and some good ol' fashion outdoor fun. In between classes there are plenty of chairs scattered around the ten acres for lounging. There is badminton, bocce ball, darts, horseshoes, Scrabble, etc. There's a grand swimming hole deep enough for diving from the floating dock (it might still be possible the first weekend in October!), a labyrinth for walking meditation, hammocks in the Secret, a hot tub and a Meditation Deck. Be prepared to unwind both physically and mentally in the serenity of the Catskills.
 About Diarra and Kristina
Diarra Cummings (Brooklyn, NY) decided to study and teach the Pilates method following a career as a concert dancer with the Dance Theater of Harlem and Garth Fagan Dance. After earning a B.A. from Columbia University, Diarra completed her Pilates teacher training through The Fitness Guru Teaching Lab Pilates Apparatus Certification. Diarra's contemporary approach to Pilates emphasizes precise and conscious movement with attention to correct alignment and addressing anatomical imbalances.
Kristina Pugh (Brooklyn, NY) moved to NYC in 2005 to finish her undergraduate degree in photography & music. As she toiled away with her camera and buried her head in books, Kristina would always find a moment to escape to a yoga class. Tina graduated from Yoga High's very first 200-Hour and 300-Hour Teacher Trainings in 2009 and 2010. She also studied Pre-Natal Yoga with Mia Borgatta and continues to study Meditation and Marma Point Therapy with Alan Finger of Ishta Yoga. Her background in music, love of movement, and obsession with metaphors informs each of her classes and hopes to yield to her students, and to herself, a natural intelligence and exploration of one's own body. She finds the human body completely fascinating and the human experience even more magnetizing and inspiring.
Prices
Single: $470 (Early Bird $420 if paid by September 30th)
Double: $400 (Early Bird $350 if paid by September 30th)
Camping is also available for same price as the Double (email for details)
To ask questions or reserve your spot, email diarracummings@gmail.com or kristina.pugh08@gmail.com
Start Date: October 5, 2012
End Date: October 7, 2012