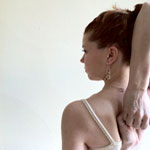 Description
Looking for an opportunity to fine tune your practice while deepening your understanding of yogic philosophy? Come join Christie for a weekend of yoga in the Catskills! Enjoy garden fresh vegetarian meals, yoga while overlooking lush fields, daydreaming in the autumn sun, impromptu games of badminton, and evenings in the hot tub. The retreat will begin Friday evening as we shake off our city-grit with some old school vinyasa. After savoring dinner together (cooked by yoga teacher extraordinaire and retreat mistress, Lippy "the Lip" Orem) it's to bed or to the hot tub! On Saturday we will awaken to a vigorous class incorporating dharma and vinyasa, followed by a continental breakfast. The rest of the morning will be yours to enjoy. We will reconvene after lunch for a more leisurely practice of pranayama, asana, and meditation, then to table for another fresh home-cooked meal. Sunday will include an in-depth practice exploring the connection between mindfulness and movement, followed by a hearty brunch. Sound good? Sign up now, as spaces are limited.
About Christie
Christie began teaching yoga more than 12 years ago after a distinguished career as a professional dancer in Europe. Certified by OM Yoga Center, and named as a "star teacher" by New York magazine, she taught at many venues throughout NYC before joining Kula Yoga Project and YogaWorks in 2011. Her classes, informed by her love of movement and passion for Buddhist philosophy, offer a vigorous blend of vinyasa with a down to earth approach to dharma. For more information please visit Christie's website at liveembodied.com.
(For a detailed description of the accommodations, click here)
For more information, or to reserve your spot, please email Christie at creeclark123@yahoo.com. A check in the full amount will be required to guarantee registration.
Start Date: September 29, 2011
End Date: October 2. 2011