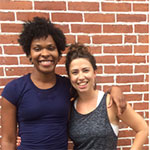 This is a fall women's yoga retreat at the Heathen Hill Yoga facility in the Catskills located approximately three hours from New York City. The property itself sits on ten acres and is a perfect location to simply rest and recharge. In addition, you have the option to wander on the property and do some hiking and/or hang in the hot tub. The weekend will include 4 yoga classes, two 90 minute Vinyasa classes, two Iyengar classes specific to the women's practice both active and restorative. There will be meditation led throughout the weekend before or after classes. Note all classes are optional and there will be plenty of time and space to hang out as a group or individually.
About Danielle DiCamillo
For Danielle, cultivating a deep yoga practice was a natural extension of her lifelong study of dance and was the perfect way to integrate movement and the mind. Danielle completed her Dance and Psychology Degree at Hunter College and shortly thereafter received her yoga certification from Laughing Lotus in 2008. She has been teaching for ten years and along the way received her Masters in Social Work at Hunter College. Danielle works as a Licensed Master of Social Work and utilizes her yoga and meditation practices to serve and empower communities throughout New York City. Danielle's yoga teaching is inspired both by her integrative background of her clinical practice and her most influential teacher Nikki Vilella of Kula Yoga Project. Her classes emphasize alignment of the body with a moveable flow while maintaining connection to the breath. She incorporates all elements of the practice—physical, mental, and spiritual—in order to create a strong foundation for her students.
About Deidra Demens
Deidra Demens was introduced to Yoga in 2004. While studying at The Theatre School at DePaul University in Chicago Illinois, Deidra explored various styles of Yoga, movement and breathing exercises as creative ways of expression.
Upon graduating, Deidra moved to New York to follow her dream of becoming a theatre artist. Between shows Deidra continued studying Yoga and began teaching in 2011.
After taking her first Iyengar class, Deidra was amazed at how much she learned in just one class. "I needed a foundation for my practice and teaching, I found it in Iyengar Yoga. The instructions were clear and precise. My interest in Yoga was elevated. My practice transformed, and so my journey began." – Deidra Demens
Deidra enrolled in the Teacher Training at the Iyengar Yoga Institute of New York and became certified at Intro I/ II level in November 2017. Deidra continues to study with her primary teachers Lara Warren (her mentor) and James Murphy, she is grateful for their support and inspiration. Deidra's approach to teaching is focused and fun, her classes are energetic and engaging. Through demonstration and detailed alignment Deidra seeks to both challenge and inspire her students.
Prices
Small shared House:
$ 515 per person for shared
$ 630 for single
Bigger Shared Rooms:
$565 per person for shared
$680 for single
Double Room w/ One Queen Size Bed:
$ 565 per person if shared
$ 780 for single
Double w/ Private Bath:
$ 680 per person if shared
$ 905 for a single
Contact information: danielledeidrayogaretreat@gmail.com