SUSAN TURIS October 20-22
Autumn Reset Retreat
Spend a weekend in the country for Yoga, organically grown garden food and fun. October is one of the best times in the Catskills to discover the colorful mountain landscape.
Susan will guide 4 complete well-rounded Yoga sessions which will include active, restorative and pranayama with time for discussion and exploration in a friendly and magical venue.
Susan is a dedicated teacher. Her attentive instruction, thoughtful rhythm and skillful sequencing help students progress over time and become aware of the more subtle aspects of yoga practice.
Susan has made seven visits to study in India for extended periods of time and is certified at intermediate jr. Iyengar Level 2 and has beencertified as a Yoga Therapist with IAYT. Susan teaches at the Iyengar Yoga Institute of Greater NY where she was introduced to Iyengar yoga by the founder and late Iyengar Yoga teacher Mary Dunn.
Susan is an enthusiastic student of chanting, Sanskrit and of yoga philosophy. Ten years ago Susan spearheaded the ongoing weekly study of the Patanjali yoga sutra program that is an integral part of the Iyengar NY Institute.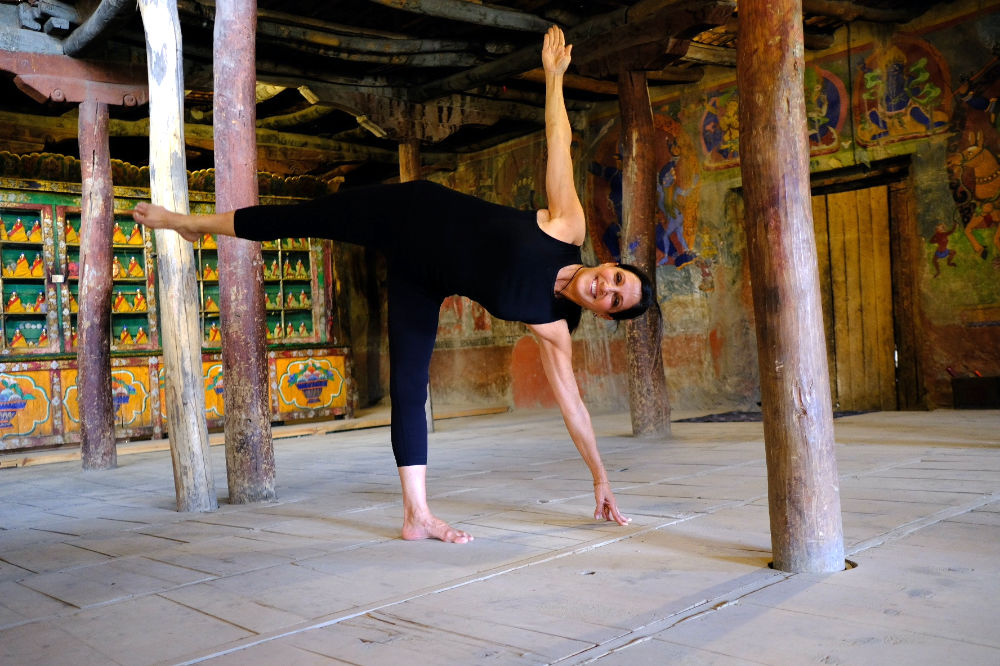 Friday, October 20
Arrival: Anytime after 3PM.
Yoga Practice: 5PM-7PM
Welcome Dinner: 7:30PM
Saturday, October 21st
Self-serve breakfast available at your leisure
Yoga Practice: 9:30am-11:30am
Lunch: 12 noon
Philosophy chit chat sangha: 4:15pm
Yoga Practice: 4:30pm-6:30pm
Dinner: 7:15pm, campfire
Sunday, October 22nd
Self-serve breakfast at your leisure
Yoga Practice: 9:15am-11:15am
Country Brunch: 12 noon
Departure: After brunch, by 1pm
All Inclusive Accomodation
Check out accommodations to see the rooms and choose yours. All inclusive prices start from $680 shared room, $1160 single stay. First come first serve.
To register contact: susanliporem@gmail.com