All guests must be vaccinated or show proof of a negative test taken within 72 hours of arrival.

CORINA BENNER July 29-31
A Mid-Summer Weekend's Dreamy Yoga Retreat
July 29, 2022

-

July 31, 2022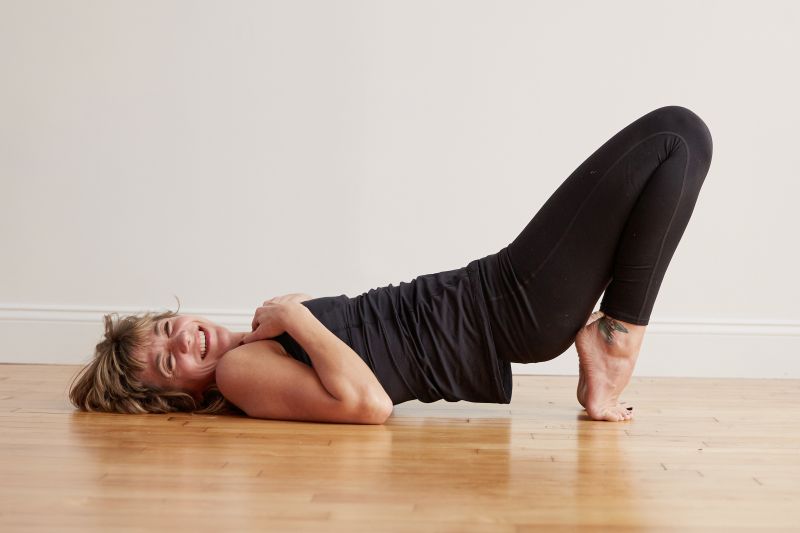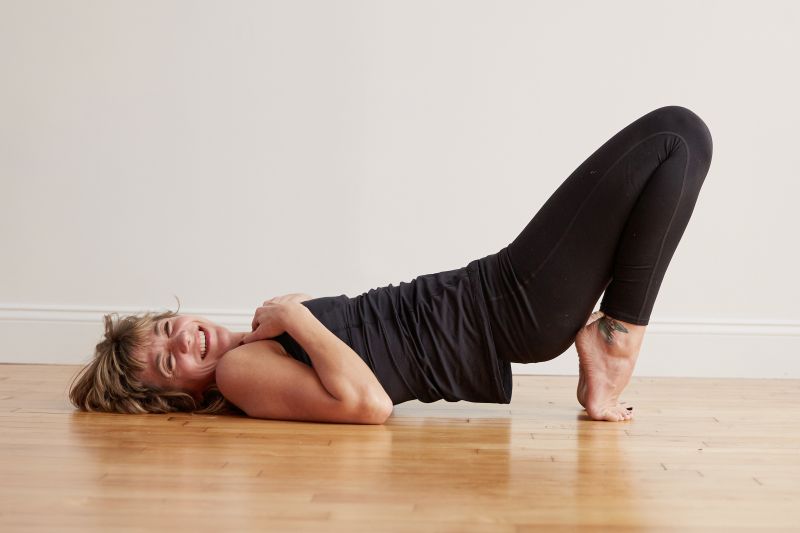 Gather in the magical fairyland of Heathen Hill for a weekend of yoga, playfulness, relaxation and delight … complete with delicious homemade meals!
Our classes will be a mix of yin, vinyasa, pranayama and meditation designed to transport you from the everyday chores and responsibilities that often occupy your mental space to the realm of dreams and visions, values and priorities. That's where you connect with your passions and purpose and reawaken your zest for life.
We'll practice yoga on Friday evening before dinner; Saturday morning and afternoon; and Sunday morning. The rest of the time you are free to frolic in the swimming hole and hot tub, stroll on the stunning property, meander through the meditation labyrinth, play badminton or horseshoes, read (nap?) in the hammock … whatever you like!
Breakfast is comprised of homemade breads, yogurt and fruit, and offered self-serve-style in each of the accommodation houses. Lunch and dinner are family-style vegetarian meals, largely sourced by the Heathen Hill Garden and prepared with love and sass by Susan and Lisa. Please email with any dietary restrictions so they can accommodate your needs. And feel welcome to BYO Wine for meals.
Friday, July 29th
Arrival: Anytime after 3PM.
Yoga Practice: 5PM-7PM
Welcome Dinner: 7:30PM
Saturday, July 30th

Yoga Practice: 9AM-11AM
Lunch: Noon
Yoga Practice: 5PM-7PM
Dinner: 7PM
Sunday, July 31st
Yoga Practice: 9AM-11AM
Brunch: 11AM
Departure: After brunch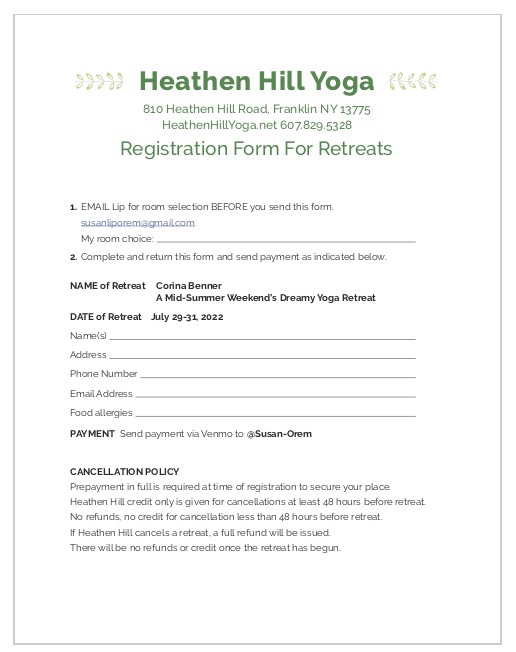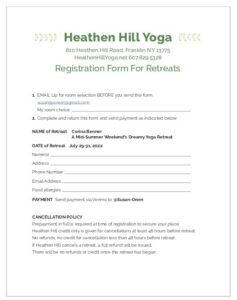 Accommodations are a mix of single, double or triple occupancy options offered in a few different houses, and costs run between $575 – $975; yoga, meals, and use of the grounds all included. Download Registration Form and email susanliporem@gmail.com to enroll!
During your journey back home you just may be convinced that Puck himself doused your eyelids with the juice of a magical flower that makes you fall back in love with life itself.
Corina Benner incubates super-heroes. As a yoga and meditation teacher she focuses on awakening students' inner-teacher; connecting them with their innate wisdom, strength, resilience and fortitude. While helping them live boldly with authenticity, passion, humor and joy, she reminds seekers of the astonishing nature of this miraculous existence and the extraordinary beauty of one's exquisite human body. Her cheerful demeanor, positive vibrations and contagious optimism empower students of all levels to practice with enthusiasm, while her detailed instruction, poetic language and intelligent sequencing create a safe space for students to explore the landscapes of their body, mind, heart and soul. She has enjoyed teaching vinyasa yoga since 1999 and yin yoga since 2004, and mindfulness/awareness meditation since 2015, and she continues to teach workshops and teacher trainings locally, nationally and internationally. From 2002-2020, she owned and operated Wake Up Yoga, one of the original yoga centers in Philadelphia and has had amazing experiences as a teacher, business owner and perhaps most of all, a student herself. While she may have actually saved a few lives during her twenty-two years as a yoga teacher, mostly she prides herself on helping to bring people back to life.