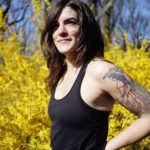 This weekend long retreat includes three yoga practices open to all levels, garden to table meals made fresh on-site, and accommodations at Heathen Hill. You'll have plenty of time to explore all the peaceful, interesting nooks to be found on the property, go for a swim in the pond and soak up your surroundings.
About Markella
Markella Los is a YogaWorks trained and Certified teacher and assistant teacher trainer who continues her studies in anatomy, kinesiology and biomechanics. She is passionate about teaching with an emphasis on inquiry and exploration, and she loves to challenge her students to be clear, present and playful on their mat.
Price
Shared accommodations range from $450-$650.
For more information please visit markellalos.com